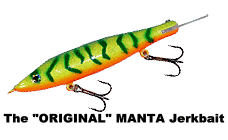 We would like to thank you for helping make the ORIGINAL MANTA Series Jerkbaits the top selling line of jerk baits on the market today.
Using the latest designing technology, River Run Tackle has been applying his extensive manufacturing and design expertise to create the next generation of products.
With our new, computerized manufacturing and molding facility, you will continue to be able to expect superb consistency and performance from every new lure, giving each a permanent place in your fishing arsenal.
If you would like to receive e-mail news from us when new products are released, send usyour e-mail address. We will only use it to inform you of new RiverRun Tackle releases. We do NOT sell or share e-mail addresses with other parties.
We hope you enjoy our NEW Online Catalog and we invite you to explore our website to see all the fine fishing products that we make here at River Run Tackle!
The Original MANTA in Action!
(click on arrow below to play video)

We Accept VISA, MasterCard, Discover & American Express!
All transactions are 100% secure thru PayPal Payment Systems!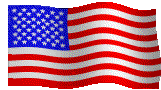 Made in the USA!